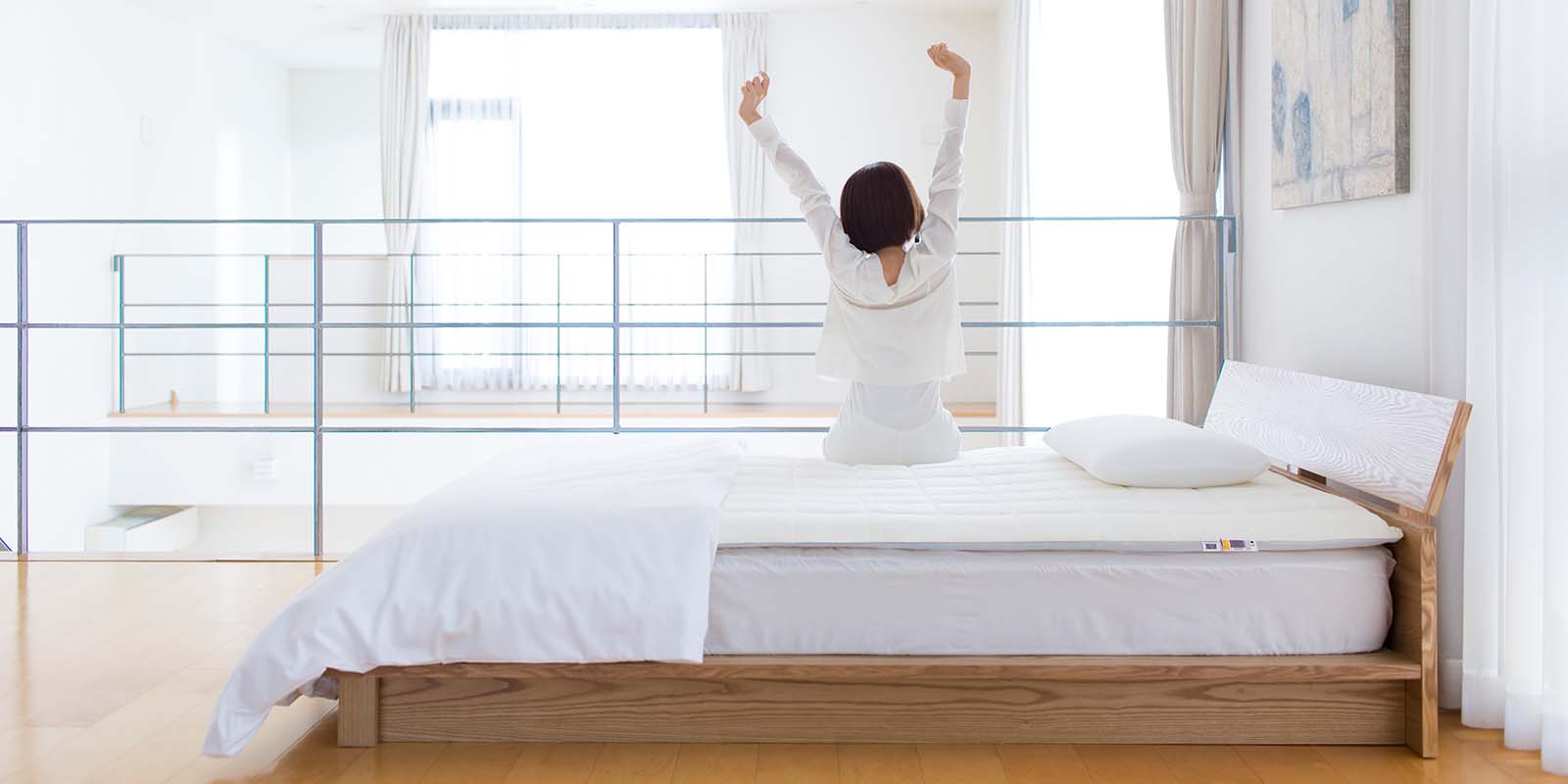 Our best-selling toppers
When we launched in Japan in 2007, the first product we debuted was the mattress topper. With just 2" of our airfiber® material, our toppers transformed the sleep and health of top athletes and consumers alike. Shop our original Top Mattress or the upgraded Top Mattress Luxe (shown here) for all the benefits of airfiber® to enhance your sleep.
A versatile addition

Our toppers are not meant to be used alone but will enhance any other sleep surface, like a mattress, mattress pad, or futon.
Shop Now

A versatile addition

Our toppers are not meant to be used alone but will enhance any other sleep surface, like a mattress, mattress pad, or futon.
Shop Now
Meet The Original: Top Mattress
The Top Mattress is what is used in all of our Sleep Research which has shown sleeping on airweave can improve sleep quality and athletic performance. This is a great introduction to airweave if you don't want to commit to our firmest bed options.
airweave Top Mattress
$1,290
Our mattress topper is firm and resilient to give you extra support, ease of movement, and improved body temperature regulation. Place on top of mattress pad, mattress, or futon for deeper sleep & less back pain.


Deadline for orders to arrive before Christmas Day:
Freight (New airweave Mattress and New airweave Mattress Advanced) - December 1, 2023
Parcel (All Other Products) - December 8, 2023
Read what our customers are saying!
I put this on top of a memory foam mattress that was making me sore and hot. It's wonderful to wake up with no pain! I'm a side sleeper and I was afraid this might be too firm but it is very comfortable
Michelle G.
Top Mattress Luxe
I recently bought a new extra firm mattress but wanted to try out a mattress topper to provide extra support. The airweave mattress topper works great. It's comfortable yet firm and should help extend the life of my new mattress. Very satisfied with it.
Richard R.
Top Mattress
Since my husband had back pain at the morning for long time, we have got this product. His back pain had gone from first day when we have started to use it! We both love this and are so happy to meet this mattress pad.
Hiromi T.
Top Mattress Luxe
I am extremely particular on mattresses and pillows allows looking for something firm that supports my spine but at same time his deRead more about review stating Expensive but worth itlivers! If you are on the fence go for it. I've been sleeping great and waking up without a sore neck and head ache.
Daniel C.
Top Mattress
The Ultimate Bedroom Accessories
Our Top Mattress Luxe is upgraded with a dual-sided cover to help cool or warm you, and features a softer shoulder area. The Hyperdown Duvet is designed to circulate the warm or cool air (depending on what side you choose) so you stay comfortable all night. The S-Line pillow will keep your neck aligned and complements all of our mattresses & toppers to reduce pressure & pain. And when you're not in bed, keep comfortable & cool with our Seat Cushion!
Innovative, effective airfiber®
Whether you choose an airfiber® mattress, topper or accessory you'll enjoy all of these benefits.
Pain Free
Refreshed
Cooler
Cleaner
The firm supportive feel of airfiber® helps maintain the body's natural posture better than memory foam. 70% of customers choose airweave due to back and joint pain.
We all naturally turn-over while sleeping, but only airweave helps you do that with ease. With 53 - 66% less muscle activity than sleeping on memory foam, you'll notice the difference when you wake up and feel more refreshed instead of tired.
The airfiber® topper is proven to lower core body temperature faster so you fall into a deeper sleep faster. Deep sleep on airfiber® has been proven to be 308% longer than sleeping on memory foam.
airfiber® does not attract mold, dust mites or even bedbugs. And as the only 100% washable mattress, airweave allows you to sleep with less dust and germs. You can breathe easier, rest easier, and wake up more refreshed.