Customize Your Comfort
The New Airweave Mattress Advanced offers three firmness options. Its modular blocks feature dual-sided firmness, enabling customizable support.

Adjust the firmness for your shoulders, waist, lower back, and legs to ensure proper spine alignment. Choose the firm side for maximum support or the soft side for added comfort.

We recommend five key configurations for improved sleep quality and posture.


Our 5 Key Configurations
Soft Support
This firmness level offers a gentle yet supportive feel. It provides a noticeably softer surface that allows for a slight sink-in sensation while maintaining a solid level of support. This level is perfect for individuals who prefer a plush and cozy sleeping experience without sacrificing support.
Medium Support
This firmness level offers a middle-ground feel, providing a supportive surface with a moderate level of softness. It offers a comfortable blend of cushioning and firmness, allowing for a balanced sleeping experience that suits a wide range of sleep preferences. This level is suitable for individuals who desire a well-rounded balance of cushioning and support.
Firm Support
This firmness level offers a solid and supportive feel with minimal give. It provides a sturdy surface that prioritizes maximum support and a minimal sink-in sensation. It is ideal for individuals who prefer a firm sleeping surface and those who require extra support for their back or body alignment.
Comfort Beyond The Surface
Experience unparalleled comfort with our expertly designed mattress, meticulously crafted to deliver superior support that goes beyond the surface.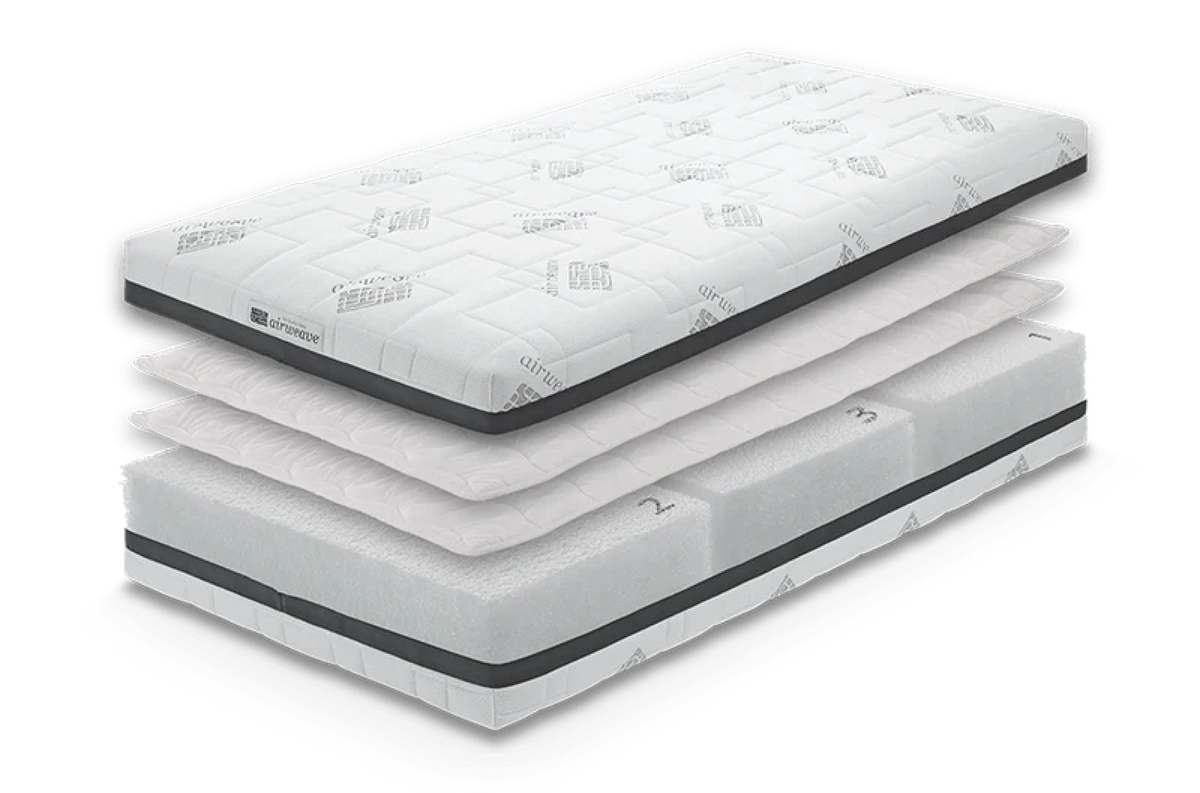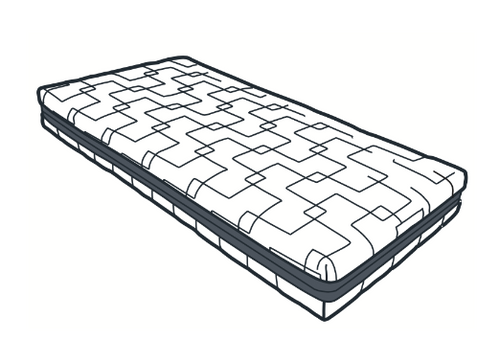 Outer Cover
The cover is engineered using advanced materials, such as high-performance fabrics and innovative technologies. Its breathable composition facilitates superior airflow, promoting effective heat dissipation and moisture regulation.

By creating a microclimate conducive to restorative sleep, the cover helps to maintain an ideal temperature and humidity level.
Less Pain
Cooler
Refreshing
Cleaner
The firm supportive feel of airfiber® helps maintain the body's natural posture better than on a soft mattress like memory foam. 70% of customers choose airweave due to back and joint pain.
Airfiber® is proven to lower core body temperature faster so you fall into a deeper sleep faster. Deep sleep on airfiber® has been proven to be 308% longer than sleeping on memory foam.
We all naturally turn-over while sleeping, but only airweave helps you do that with ease. With 53 - 66% less muscle activity than sleeping on memory foam, you'll notice the difference when you wake up and feel more refreshed instead of tired.
airfiber® does not attract mold, dust mites or even bedbugs. And as the only 100% washable mattress, airweave allows you to sleep with less dust and germs. You can breathe easier, rest easier, and wake up more refreshed.
Size & Weight
Thickness: airfiber® 7.8", with cover + 2 soft layers 11"

Twin: 39.4" X 74.8" X 11", 58 lbs

Twin XL: 39.4" X 79.9" X 11", 61.5 lbs

Full: 53" X 74.8" X 11", 78 lbs

Queen: 60" X 79.9" X 11", 94.5 lbs

King: 76" X 79.9" X 11", 120 lbs

CAL King: 71.7" X 83.9" X 11", 118.5 lbs
Materials
airfiber® core: Polyethylene 100%

Outer Cover: Polyester 100%

Inner Cover: Rayon 70%, Glass Fiber 30%

2 Soft Layers: Polyester 100%
Warranty
FREQUENTLY ASKED QUESTIONS
All of our mattresses are uniquely firm and supportive, and highly breathable. But each one has a variation on the firmness or customizable features for you to choose from. See our Comparison chart for all the details.
Your new Mattress Advanced is customized by you at home. Either flip and rotate the airfiber® blocks until you find what is most comfortable to your body OR try using our MattressFit app for a recommended pattern.
DUAL MODE is our engineering technology that produces a different firmness on either side our airfiber® material.