airweave Top Mattress
low stock!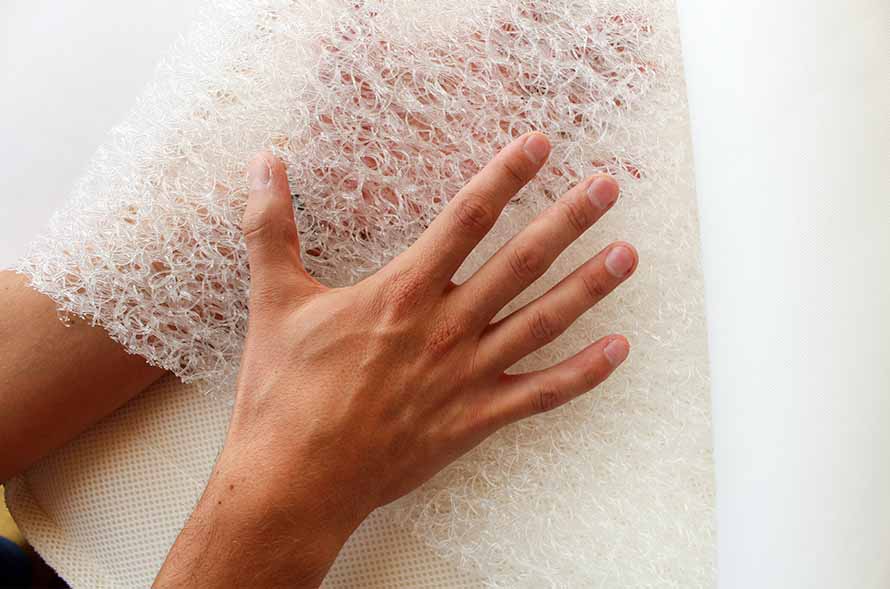 What is airfiber®?
Airfiber® is our proprietary technology and material that makes up the core of our mattresses. Through its unique interwoven design, airfiber® helps you move easily, evenly distributes weight and allows airflow to help keep you in a deeper more restful sleep.
Less Pain
Cooler
Refreshing
Cleaner
The firm supportive feel of airfiber® helps maintain the body's natural posture better than on a soft mattress like memory foam. 70% of customers choose airweave due to back and joint pain.
Airfiber® is proven to lower core body temperature faster so you fall into a deeper sleep faster. Deep sleep on airfiber® has been proven to be 308% longer than sleeping on memory foam.
We all naturally turn-over while sleeping, but only airweave helps you do that with ease. With 53 - 66% less muscle activity than sleeping on memory foam, you'll notice the difference when you wake up and feel more refreshed instead of tired.
airfiber® does not attract mold, dust mites or even bedbugs. And as the only 100% washable mattress, airweave allows you to sleep with less dust and germs. You can breathe easier, rest easier, and wake up more refreshed.
Size & Weight
Thickness: airfiber® 1.8", with cover 2"
Twin: 39.4" X 74.8" X 2", 12.5 lbs
Twin XL: 39.4" X 80" X 2", 13 lbs
Full: 53" X 74.8" X 2", 17 lbs
Queen: 59.8" X 80" X 2", 20.5 lbs
King: 76" X 80" X 2", 26 lbs
CAL King: 71.7" X 84" X 2", 26 lbs
Materials
Cushion: Polyethylene 100%
Quilt Shell: Polyester 55%, Cotton 45%
Lining: Polyester 100%
Mesh: Polyester 100%
Warranty
FREQUENTLY ASKED QUESTIONS
Gradually over time, airweave mattresses will soften up a little bit with use. You should expect a slight conforming to your body, which is natural for our product, over years of regular use. You should not see any major deterioration or ever experience deep indents or that "sinking in" feeling.
Our Top Mattress typically ships out of our facilities via FedEx within 2 business days after you place your order. After that it takes 1-5 business days to arrive at your door. No signature required.
Sleep is very personal and so depending on your needs, one may be a better choice over the other. We do assure customers that all of our airweave products provide the benefits of a firm, supportive, and cool sleep surface. We hope you'll take advantage of our 100 night trial, free shipping & returns, in order to find what's right for you. Our toppers are effective in improving a soft mattress that you're not ready to dispose of. If it's in good condition you can use our topper and enjoy a firmer, cooler sleep surface. The softness of the mattress below the topper will affect the overall firmness that you feel so this can be anywhere from a 6-8.5 on the firmness scale.
For some, airweave has shown to improve the quality of sleep by eliminating aches and pains through ease of pressure and improved spinal alignment. Before trying airweave, we strongly recommend you consult with a medical professional about your symptoms. If you find that a firmer, supportive sleep surface is what you need to relieve pressure and pain, then airweave is the solution for you! For more information click here.
We want to ensure your complete satisfaction. Since it may take some time for your body to adjust to the firmness of our products, we require a minimum trial period of 30 nights within the full 100 night return policy. That way we can ensure you've given your body enough time to try and adjust to your New airweave Mattress, New airweave Mattress Advanced, airweave Mattress 70, 50, 30, Top Mattress, Top Mattress Luxe, Futon, Portable, or Ritz Paris Collection product. If you are not completely satisfied you are eligible for a partial refund in the form of the original payment as long as you get in touch within 100 days from when your item was delivered AND you have tried the product for a minimum of 30 days. If you choose to return one of the items above, you will be subject to a $200 return service fee.

Please note that customers can receive a cash refund for their first mattress return, minus a $200 return fee. Any subsequent returns will only be eligible for store credit in the form of an airweave gift card.